TPO SINGLE-PLY ROOFING SYSTEMS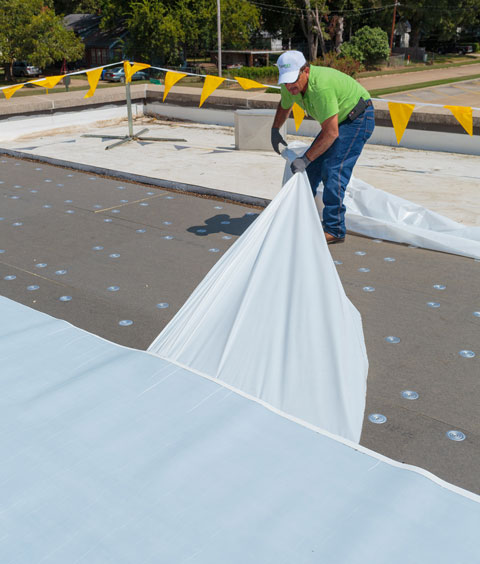 Greater tear and breaking strength
VOC free
Proven long-term performance
Non-halogenated compound
Free of plasticizers
Scuff resistant
Increased puncture resistance
Proven to keep solar heat out of buildings
Increases energy savings
Meets EPA requirements
Meets reflectance and emittance criteria in
the LEED program
EPDM SINGLE-PLY ROOFING SYSTEMS
Fire-retardant
Reinforced with polyester scrim
Increase resistance to punctures, tears, impacts,
and fatigue
Superior weathering and ozone resistance
Resistance to ultraviolet light exposure
I have had the opportunity to work with Roofing Unlimited and Mr. Dick Doyon for the last 7 years maintaining the 220,000 sq.ft. of roofing at Darlington Fabrics. The workers that install and maintain roofing are professional and neat, the jobsite is always clean and when the job is completed they leave nothing behind. The quality of their work is excellent. I prefer working with Roofing Unlimited because they are a local company and respond quickly to service call or emergencies. I have no reservations in recommending Roofing Unlimited as a qualified and dependable roofing contractor.
- Earl Juday Engineer | Darlington Fabrics
I am pleased to write this letter of recommendation for Roofing Unlimited & Construction, Inc. (Roofing Unlimited). Roofing Unlimited recently completed a roof membrane replacement and insulation project on our 33,000 SF building in the Quonset Park section of North Kingstown, RI. The company owner, Richard 'Dick' Doyon, was a real pleasure to work with. Although we are a General Contractor, we do not know the specifics of the roofing business. Mr. Doyon's knowledge and experience were invaluable to us before and throughout the project. The job was completed on time and the workmanship was first rate. Our Safety Director visited the building during construction and found the Roofing Unlimited crews utilizing the appropriate safety harnesses and practicing safe work methods. A safe jobsite is very important to us and Mr. Doyon welcomed our Safety Director's visit because he too stresses a safe work environment. I am confident that your experience with Roofing Unlimited will be a positive one.
- Mark H. Mainelli, Vice President | Aetna Bridge Company